September 2020 Horoscope And Tarot Card Reading For Your Love Life & Relationships
Choose wisely and follow your path.
September has always been a month representative of newness and change. Though it begins the end of the year, with it comes new beginnings — school, new jobs, new opportunities, new fashion, new products, new ideas.
And the September horoscope is filled with novel thinking and a positive outlook on life.
With the Full Moon appearing on September 2nd, this month starts out with a bang; all our sense will be on full alert. You'll be feeling strong and psychic this month, and your sense of intuition will be off the chain. If your gut tells you something, listen to it.
That's where the monthly Tarot reading comes in to guide you.
The cards are fraught with meaning this time around, so pick your cards wisely. Use your intuitive sense to pick the line-up that will make the most sense in your life. 
All you need to do is pick a card: 1, 2 or 3. Empty your mind and allow yourself to go with the number that pulls you…
Once you decide that number is yours, the process begins. You were meant to pick that number, and the number you pick will determine the reading you'll get. Everything is meant to be.
Have you chosen your deck? Choose wisely, as the deck of cards you choose will be your fate for the month. Let's start to interpret.
Tarot Card Reading #1
2 of Cups
9 of Swords, reversed
King of Rods
Queen of Rods
4 of Swords
Apparently, you have a goal for this month, and it has to do with love and security.
You have been working very, very hard. You're tired of it, but there's nothing that is going to get in your way, and your plan is secure your love life, once and for all.
It's all you think of: making sure that you and your partner can both get by and be happy. That 9 of Swords, reversed, shows your struggle: you have gone so far out of your way to make this relationship work, and it looks like you're going to see the fruits of your labor come through for you this month. Good for you.
You will rest at ease and you will be feeling the love you desire, but you never really let yourself rest, do you?
What this spread shows us is that, no matter what you do, you always keep a little bit of doubt in you, and that tends to spoil your present plans. The main message here is, "Live in the moment. Enjoy the present. Stop wasting your time living in the future, creating fantasy scenarios of doom and gloom."
The present is a good time in your life; don't let it pass you by without acknowledging and recognizing it.
Tarot Card Reading #2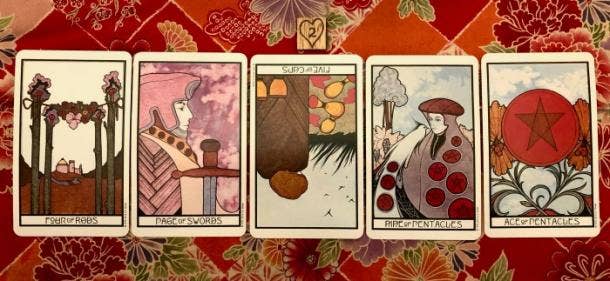 4 of Rods
Page of Swords
5 of Cups, reversed
9 of Pentacles
Ace of Pentacles
You've been expecting a guest — a young person, perhaps a family member — and you've been really concentrating on sprucing up your house for their visit or stay.
It's a joyous time in your life and all things seem to be working out for you. And this is because you had a plan. You worked on your plan daily, and step by step, you made something happen, something "familial" and joyful.
You know that there have been a few mistakes made here or there, and you also know that a few egos have added to the mess, but what's evident now is that the mess is cleaned up and everyone involved is ready for a new start.
What's even better is that all parties involved in your life are willing to put in both the effort and the money, if money is needed.
You will see some great displays of generosity this month, so don't be surprised if you receive a very expensive gift. Support is abundant this month, and if you're planning on doing something special for the house, this is the right time. All green lights here, all go go go.
Tarot Card Reading #3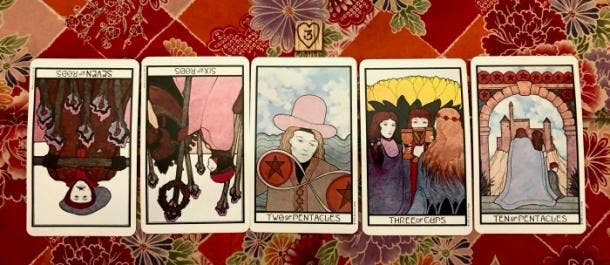 7 of Rods, reversed
6 of Rods, reversed
2 of Pentacles
3 of Cups
10 of Pentacles 
Another fantastic reading here, but the payoff isn't going to come until the work is done. And in this spread, the work gets done!
You have taken a long time to accomplish something, and you knew that you had to make a choice; that choice forced you to sacrifice something in order to become, but you did it; you chose the right path and now you're about to see the fruits of your efforts.
Don't be surprised if this month brings you good friends and shared positive experiences.
There will be a party, a dinner, get-togethers and celebrations. Those early days of the reversed 6 and 7 of Rods are over; those cards are there to remind you of how hard you tried and the time spent on making things better for today.
And… you did it. You put in the work and now you're free to enjoy the spoils.
This reading says "keep doing what you're doing." There is money in this spread, and it's big. This isn't about getting an extra unemployment check, this is about an investment paying off big-time, and you getting to live in and experience the very best of what you've always wanted and planned for.
Ruby Miranda is a New Yorker who learned astrology, I Ching and all types of cartomancy and numerology from her crazy, gypsy mother. She currently writes for a wide range of esoteric publications.